Race Photos: Team North Borneo Harley Davidson, Winners of the 2004 Sabah Adventure with YB Datuk Jahid Jahim, Assistant Minister of Culture, Youth and Sport, Sabah.
Photos below: Team Brunei 1, Winners of the Adventure Category of the Sabah Adventure 2004 with Dr.Dave Siddhu. Next photo: Team Sandakan Hardcore and Mr.Ho from Hong Kong, the Winners of the Most Promising Team Award 2004 and SAC Buckaroo of the Race Award 2004. Ho defied all odds and severe cramps to walk a further 15KM on his own on day two after his team mate had mistakenly left him behind to finish and qualify for day three of the race. Sheer determination made Ho the obvious choice of the award.
Photos of the 2004 event are now available on CD-ROM (2 disks) at RM50. Kindly email the organizers for your copy today. Photos are professional shots courtesy of Mr.Benjamin Chai who has generously donated the photos and all proceeds to fund the 2004 race. We express our sincere gratitude and appreciation.
See you in 2005!

Photos by Ben Chai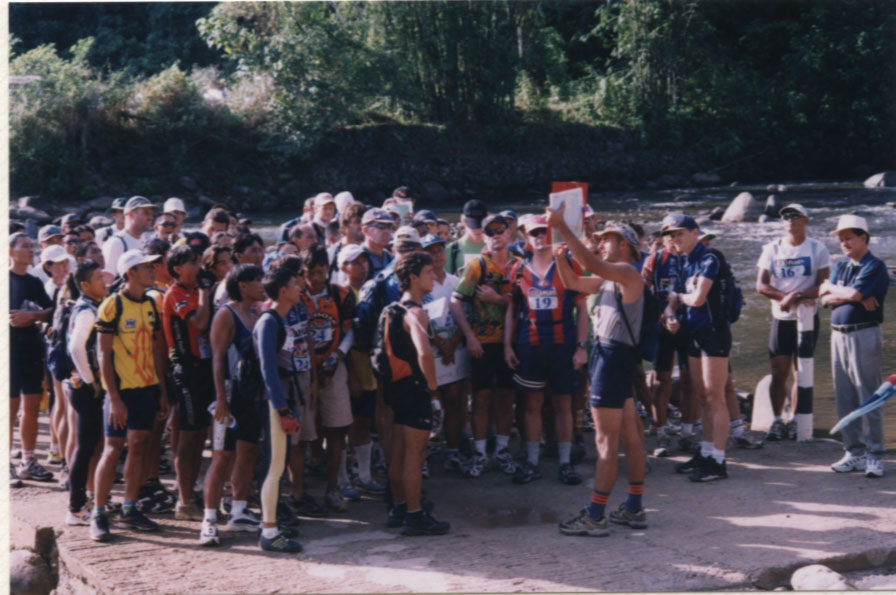 The Sabah Adventure Challenge is now in its 4th year since its founding in 1999 and continues as an all volunteer organized event. We wish to express our gratitude to our sponsors: adidas, Shell, Gayana Resort, Cometra Travel and Malaysia Airlines.
Team North Borneo Harley Davidson, the Winners of SAC 2004 recieve two free tickets on Malaysia Airlines to attend the 2004 Langkawi Nature Challenge as well as a free entry for this event worth US$2000.

The Sabah Adventure Challenge (SAC) is back for the 4th year. It enjoys a reputation for providing a challenging, yet engaging race which encompasses some of the most spectacular scenery in the world.


Unique in its format, The Sabah Adventure Challenge has teams of two competitors racing from dawn to dusk. These teams will be traversing jungle clad mountain ranges, down cascading rivers and hiking through some of Asia's prime rain forests. Adventure disciplines include jungle trekking, mountain biking, traditional bamboo rafting, and night navigation. Nights during the race will be spent at a comfortable jungle base camp located some 30KM outside of Kota Kinabalu.


Sabah Adventure remains unique because it offers novice and experienced teams a challenging experience over the course of three days where teamwork, preparation and the spirit of adventure racing all play a part in determining your success or failure in completing the race.