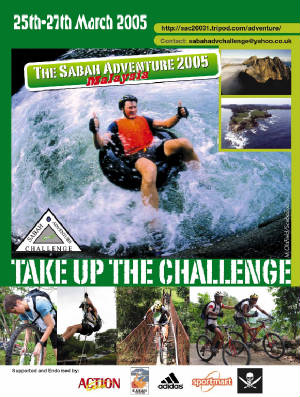 Peak Events was formed to manage and fund the annual Sabah Adventure Challenge, South East Asia's longest running Three Day Adventure Race. Founded in 1998 by Martin V. Rijswk, Dr.Claus Pedersen, Dato Hashim, Captain Taz Lawrie and Avtar Singh, the Sabah Adventure is now in its 7th Year since its founding and continues to function yearly thru event management and special projects.
Experinced in Event Management and Adventure activities, Peak Events has successfully organized the following:
The adidas 3 v 3 Streetball Challenge 96-99 and 2001-2
Sabah Sprint Triathlon 1998-2000
Pathfinderz 1 day adventure racing series 2003-2004 (4 races)
Nova-logic expedition to the summit of Mount Kinabalu via the West Face of Mount Kinabalu from Kg.Melangkap Baru 2004
Nova-logic down to Sapulut and Batu Punggul Caves up river from Pesiangan 2004
All funds from these activities have contributed to funding the Sabah Adventure Challenge on a yearly basis.